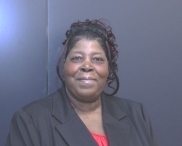 PEOPLE OF THE WHITE HOUSE

Rev. Dr. J. Talbert
Recognized as a Champion of Change
by President Barack Obama - December 15, 2011
Rev. Dr. Talbert was chosen to be highlighted as a Champion of Change which is part of President Obama's Winning the Future initiative. The President's plan is to out-innovate, out-educate and out-build the rest of the world. Champions of Change give back to the community by providing vital services to those in need and they embody Innovate, Educate, and Build.
Rev. Dr. Judith Talbert is the Pastor of Faith Tabernacle of Prayer and Executive Director of Reintegrating Alternatives Personal Program (RAPP), a nonprofit reentry organization, in Washington, DC. In an outreach effort to respond to families affected by incarceration of a loved one, Dr. Talbert enlarged her prison outreach ministry by establishing RAPP. Her outreach and commitment to effecting change is nationwide. RAPP provides mentoring services to residents in local and federal correctional institutions. Her work helps to ensure public safety and prevents recidivism. Dr. Talbert has dedicated 36 years helping at-risk and challenged populations, i.e., homeless, ex-offenders, members of gangs, and persons with HIV-AIDS. The Feed and Lead Program provides weekly food and clothing to needy families and shelters throughout the Washington Metropolitan area.
Dr. Talbert considers the harsh reality and effects of crime, hunger, and poverty as a call to action and our duty. She provides a safe haven for gang intervention where clients are taught conflict resolution and job readiness and seizes this opportunity to feed and clothe homeless and poverty-stricken families. These same resources are also transported and distributed to those who have no means by which to travel. For seven years, Dr. Talbert has directed a Fatherhood Initiative program which has counseled custodial and non-custodial parents throughout the District of Columbia.
As President of the Joe Arthur Talbert, Jr. Foundation, hundreds of students are helped through Foundation scholarships. Dr. Talbert genuinely believes we are our brother's keeper. She views poverty, injustice, and discrimination as an opportunity to educate and thereby successfully effect change.